Welcome to my site
Here you will find crafts I love to do and share with you.
I paint I do watercolors,Acrylics, oils., I do mosaics,make cards,Atc"s, Wire and Non beaded bracelets.Make cloth dolls,I make clutch purses And in August 2010 Issue of Somerset Altered Couture,I have 2 featured pages.
This is one of a encaustic enamel card I was playing around with and discovered I could mix crayons with enamel.


Sunday, September 23, 2012
Sherry"s Southern Styles: Haunted houses
: I love haunted or old houses and I'm going to start adding them to my Blog site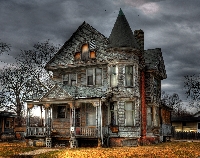 I swap with Swap-bot!
I love haunted or old houses and I'm going to start adding them to my Blog site